Xmas Gift for Your Beloved
WM6
Born for Wall Mounting
DT6
Fashion Bedroom Decor
Shortwave Radio
LATEST BLOG POST
Read our exciting stories from our favorite Sportsmen, get inspired now!
Learn More
Reviews
What our customers say about RADDY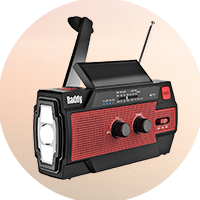 "I've looked over the radio, I like all the features. I've not had to use it yet buy it looks well made. I like the fact that it can be charged by solar, crank, or usb. Of course if power is out for a period of time the solar or crank is the only way to charge, which is fine with me. I hope I never have to use it but if I do....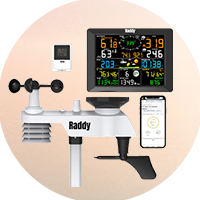 "I got the Raddy WF-100C Professional Weather Station to upgrade an AcuRite weather station that only has temps and wind speed. This model has temperature and humidity, plus wind speed & direction, rain, barometric pressure, solar & UV radiation and other data of the environment. You can set the units of measure on the base station."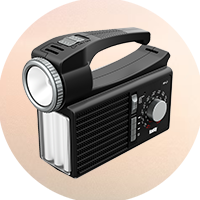 "During night operations it comes in handy with the many lighting needs.It has three nice led lights that can give you lighting for your operating position.It also has a good flash light built in to allow you to move around in the dark.The FM AM and SW also give you very nice audio quality. This is a neat little radio for someone that enjoys the outdoors."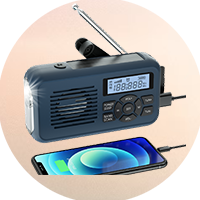 "I love this thing. I link it to my phone take it to the garden and on the porch. It is very light easy to carry. Battery last a long time. Has a fm radio or can plug my usb up with all my favorites.....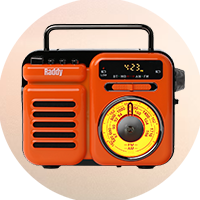 "When compared to my Eton radio (which has many of the same functions), I prefer this radio. The plastic is hard plastic, not the soft touch plastic used on many of these kinds of radios. The issue with the soft touch is that, after a few years, it begins to break down and is impossible to clean. The look is refined, retro, cool, and different."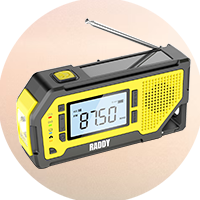 "I fell in love with this little radio! It's so easy to take any place. You can solar charge, battery charge or hand crank charge. You get AM, FM and weather alerts too. It's digital tuning so you don't get stuck with just certain channel's that won't come through. You can fine tune it digitally. It has a little pull up antenna. If you are camping or in the storm shelter you need one of these for back up for if you phone dies. It has a pretty strong flashlight on it also. This is a must have in my opinion."