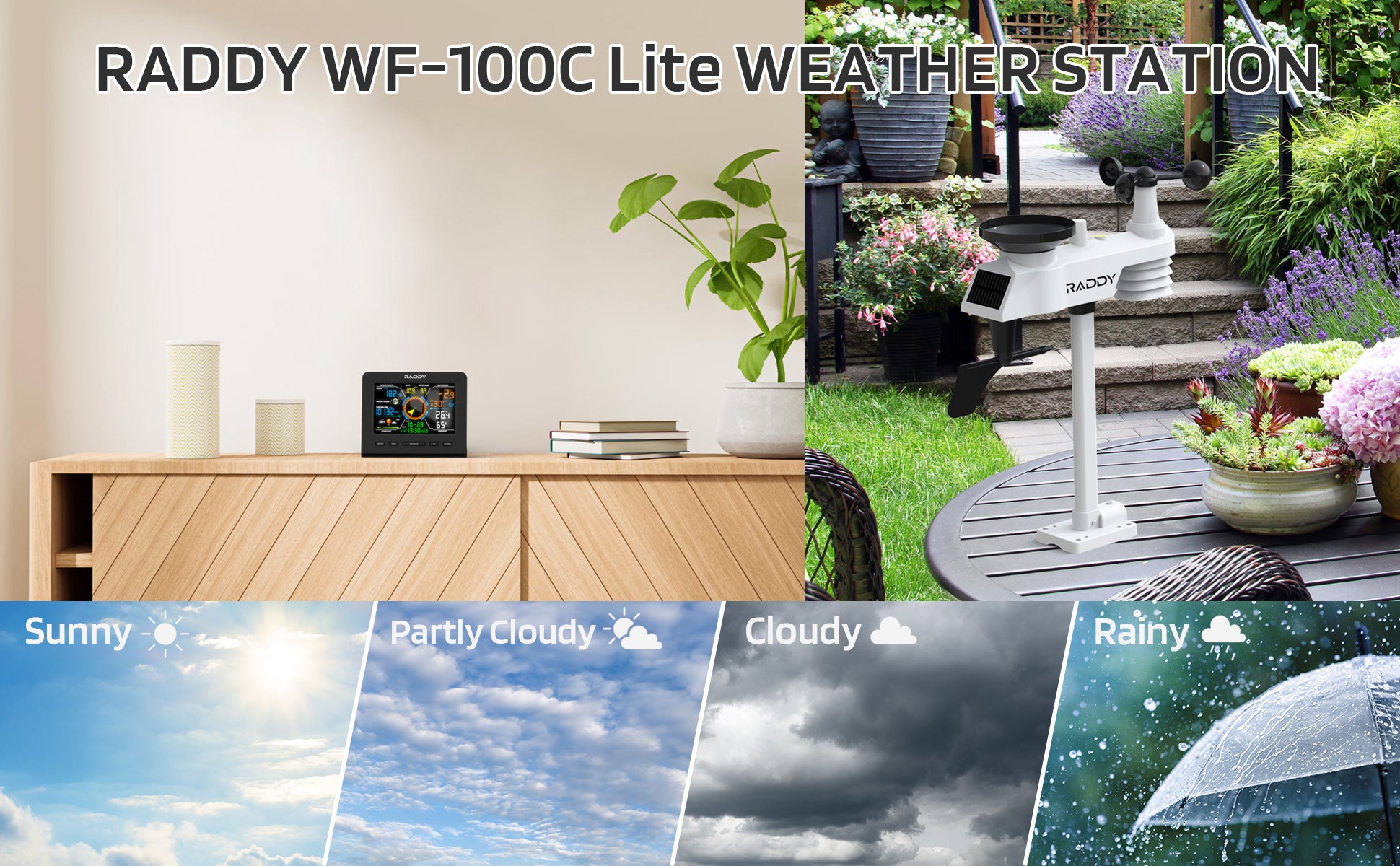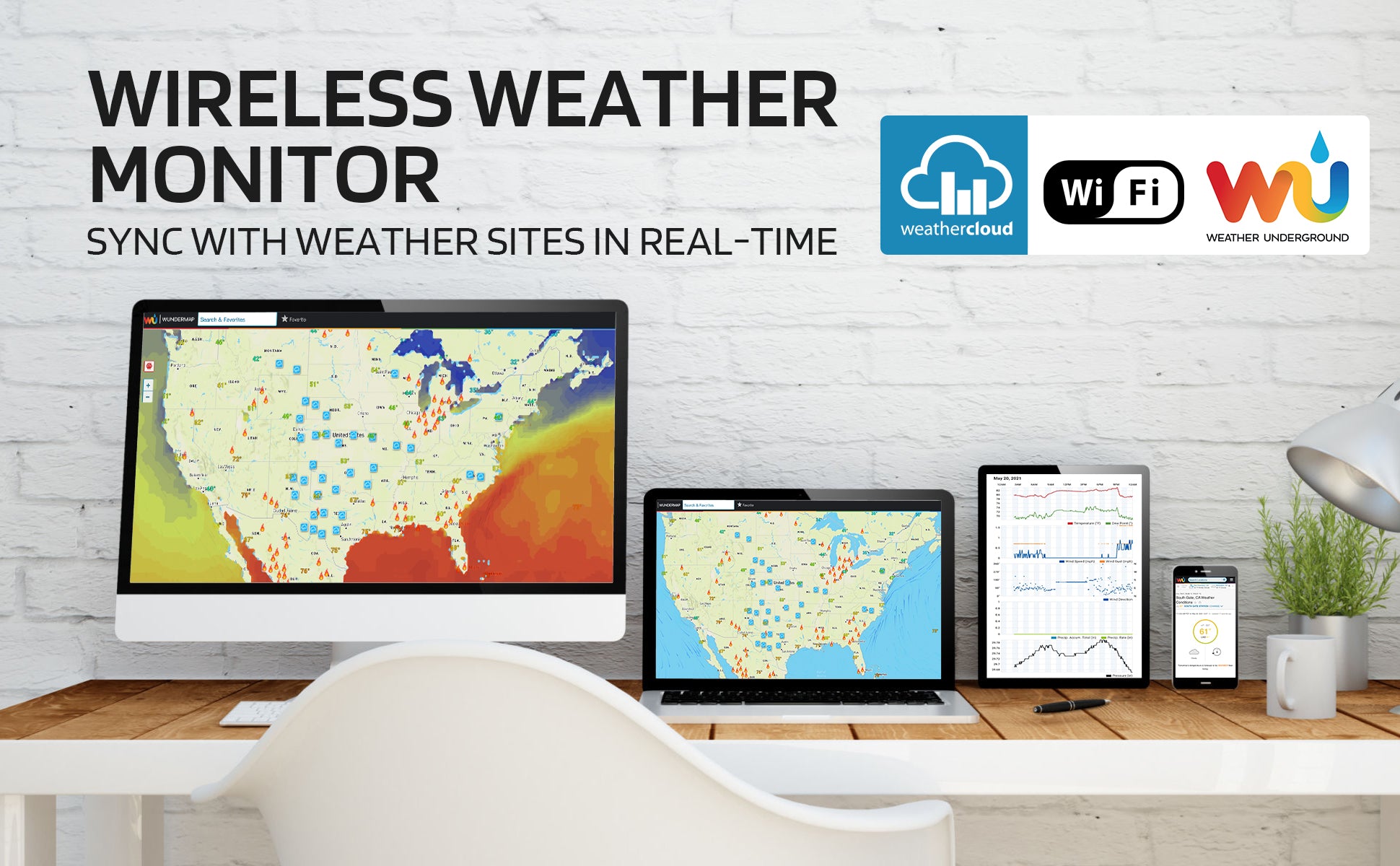 The base station is powered by a 5V 1.2A power supply, which the outdoor sensor requires 3 microcells (AA, recommend using Li-ion batteries). The base station can also be operated alternatively with 3 microcells (AAA, alkaline or Li-ion). Since previous settings will be reset when plugged out, we recommend installing the batteries for the base station. The batteries then serve as a backup e.g. in case of power outages or similar. (Please note: no AAA batteries can be charged with the device.)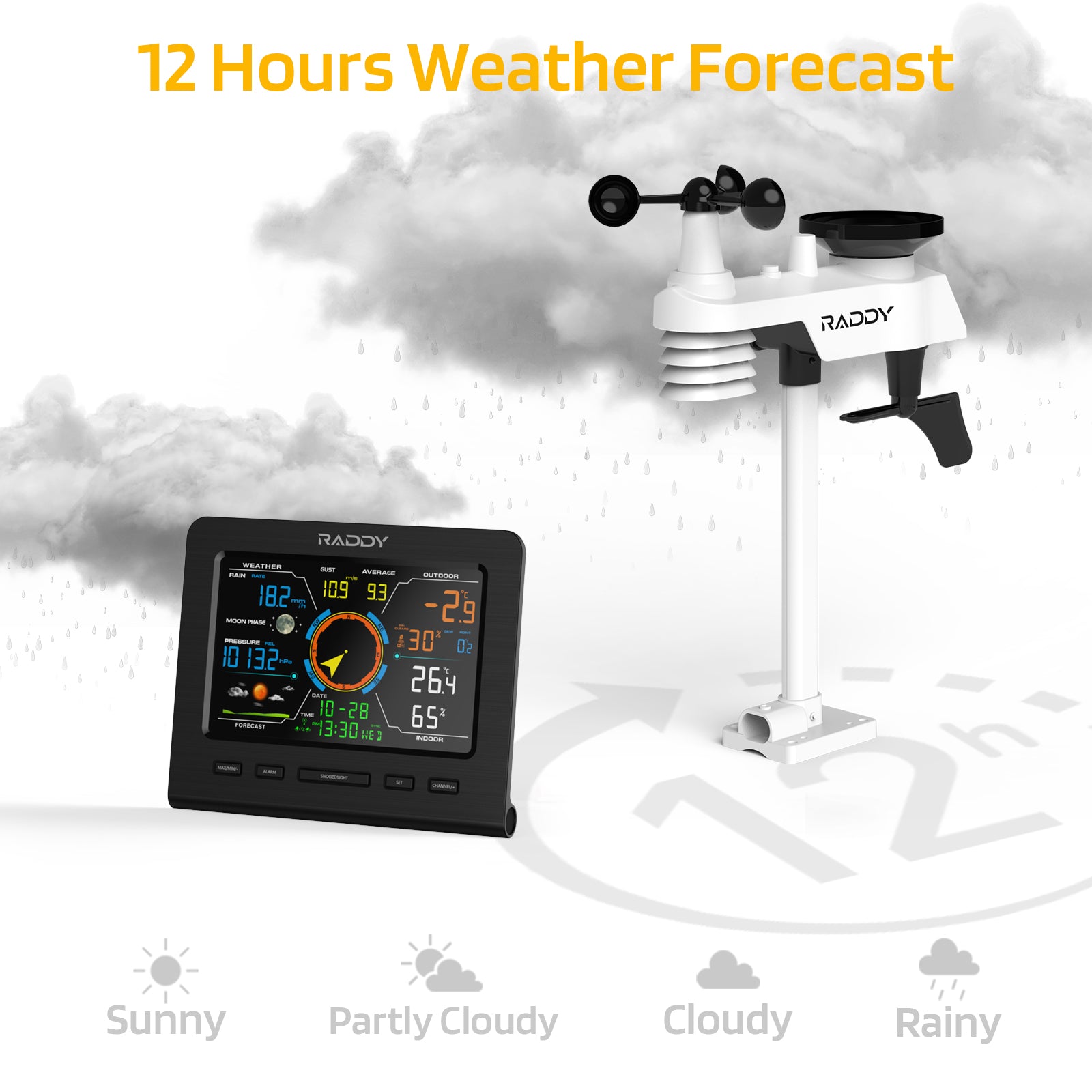 Monitor the current and next 12h weather condition
Get exclusive weather information in your located area like never before! Easily keep track of indoor&outdoor temperature and humidity, trends, wind gusts, rainfall data and also the weather forecast in 12h. Helps you arrange your day better! Note: We recommend the low-temperature resistant batteries in winter as the performance of normal batteries will be weakened and affect the sensor signal strength when the temperature is below -10℃(14℉).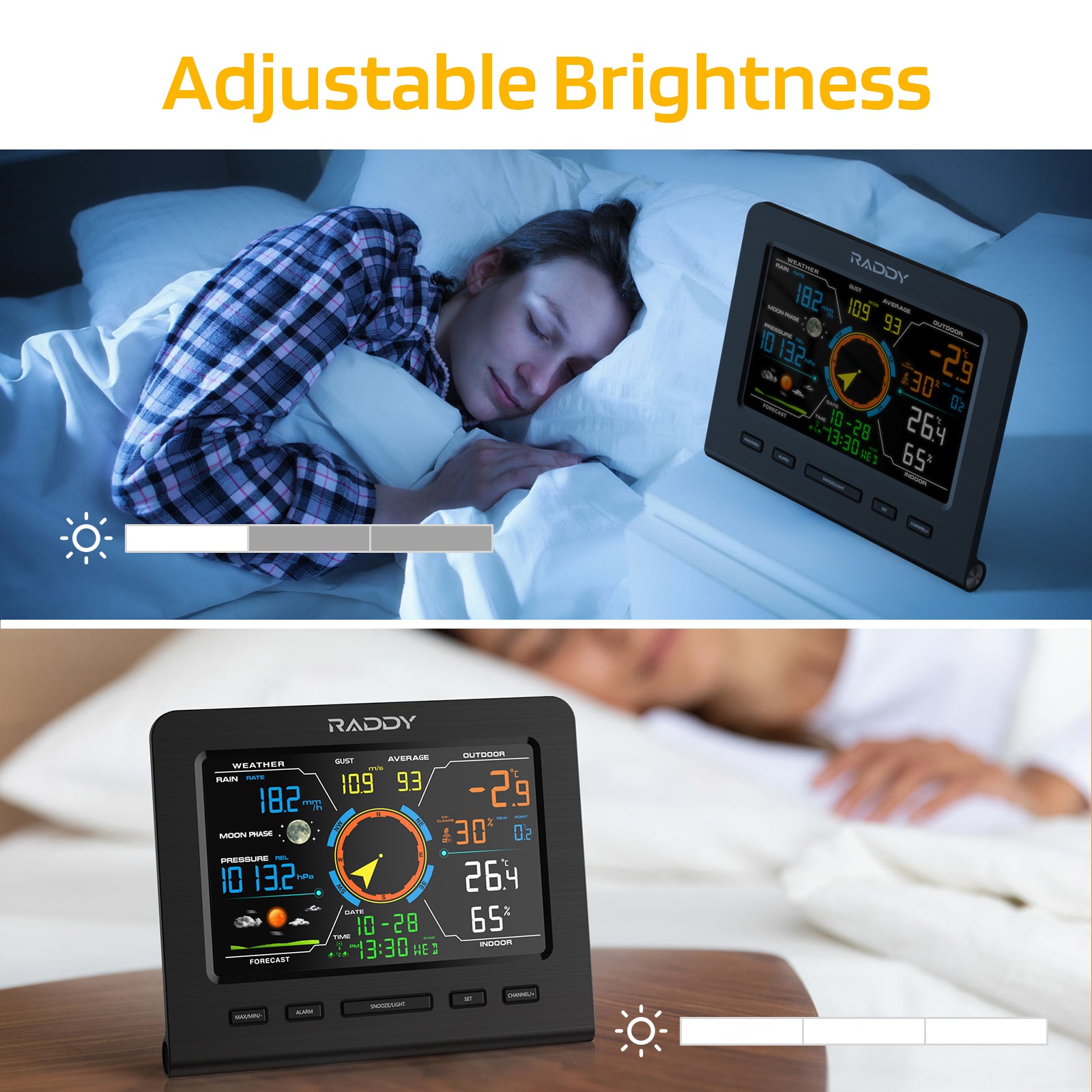 Adjustable Brightness
The backlight can be adjusted to 3 brightness levels by touching the top "Snooze/Light" key, and can also set a time period for auto dim mode, which meets different needs when using.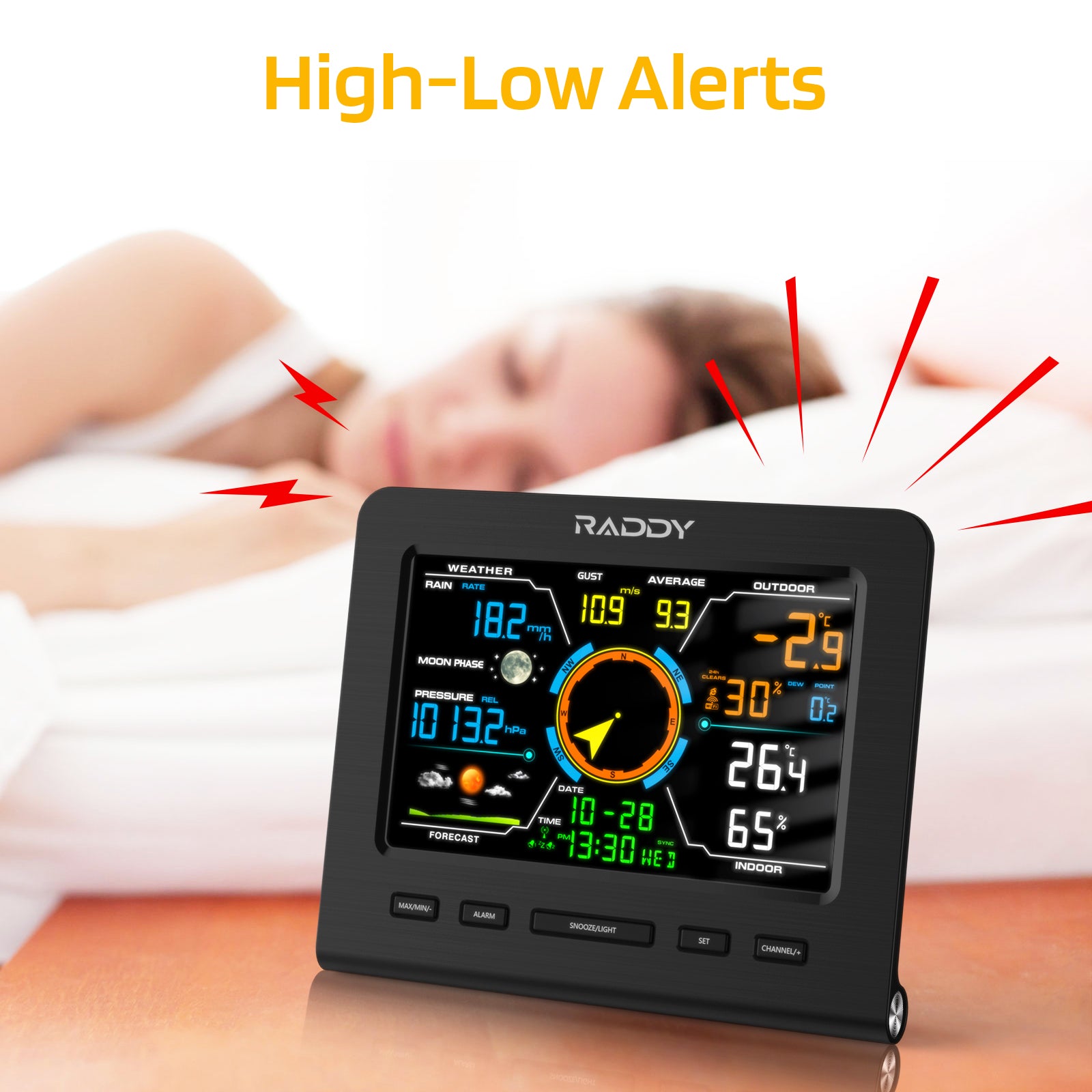 High-low Alerts
The WF-100C Lite is able to set up custom alarm values for high/low temperature, humidity feels like temperature, rainfall, wind, air pressure, dew point, etc. When conditions exceed your preset values, the console will alert you. An invaluable tool in natural disaster-prone areas (hurricane/tornado/wildfire).
What's in the box?
1 x Display Console
1 x Outdoor Sensor
1 x Thermo-hygrometer Remote Sensor
1 x Mounting Bracket Back Plate
1 x Mounting Pole
1 x Foot Mounting
1 x 100…240V AC Power Adapter
Accessories
2 x Screws and Nuts M3 x 29mm

4 x Screws and Nuts M5 x 35mm

4 x Universal Screws M4 x 35mm

1 x User Manual

1 x Wi-Fi Setup Guide
Specifications

Temperature Range: Indoor sensor: 32 to 140 °F(0℃ to 60℃), Outdoor sensor: -40 to 149 °F

(-40℃ to 65℃)

, Remote sensor: -40 to 140 °F

(0℃ to 60℃)

Humidity Range

Indoor: 10 to 99 %, Outdoor sensor: 10 to 99 %, Remote sensor: 10 to 99 %

Wind Direction Range: 0 - 360 º

Wind Speed Range: 0 to 112mph

Barometric Pressure Range: 8.85 to 32.50 inHg

Display Console Dimensions: Frame Dimensions (L x W x H): 6.4" x 0.7" x 5.3"(

16.3 cm x 1.8 cm x 13.5 cm)

LCD Dimensions (L x W): 5.0" x 3.1"(

12.7 cm x 7.9 cm)

WiFi Console RF Frequency: 2.4 GHz/802.11 b/g/n with IPV4 protocol

Data TX/RX Frequency: 433 MHz

Range (Console and sensors): Up to 300 feets(100m)

Range (Console & Wi-Fi router): Up to 80 feets

(25m)