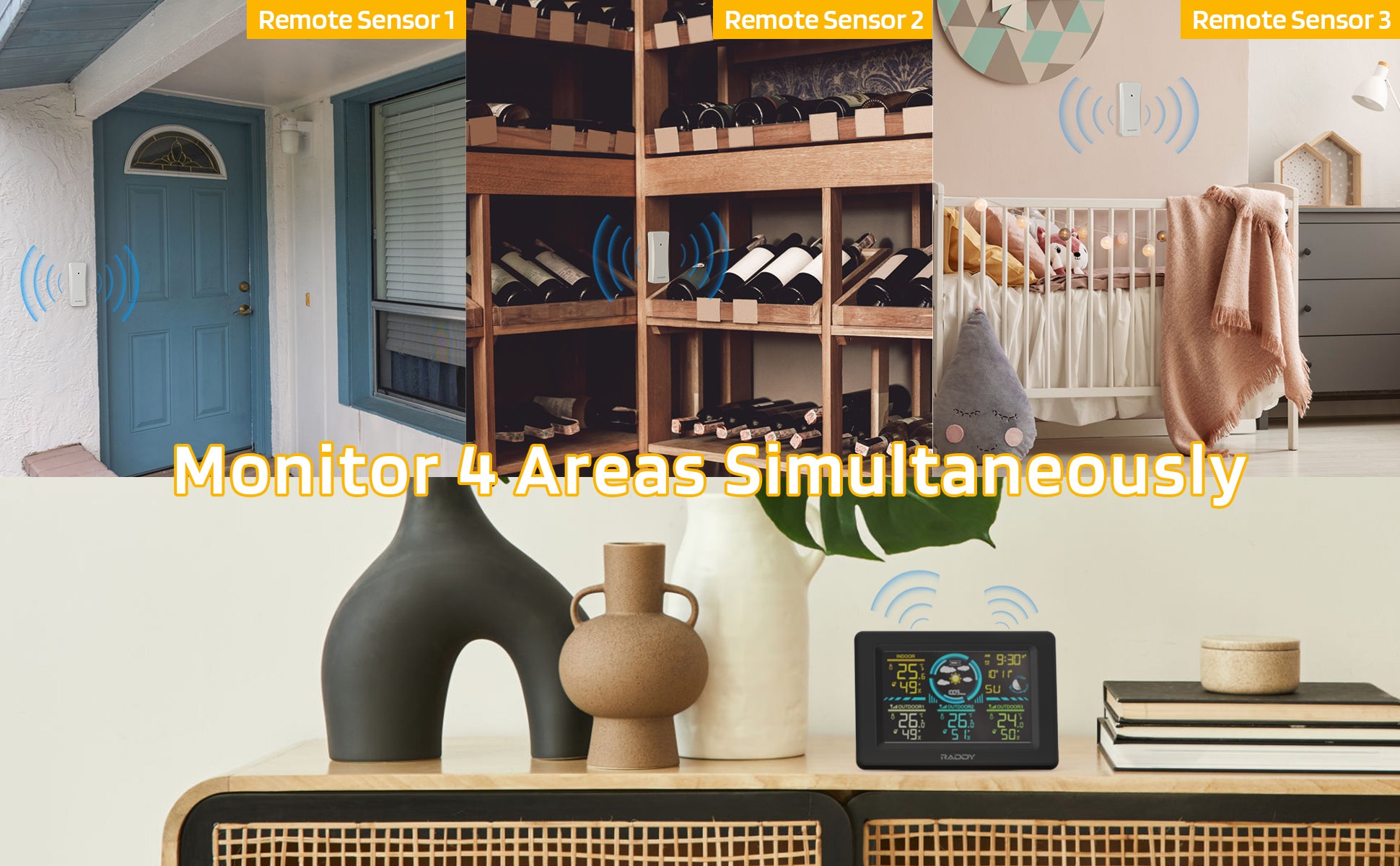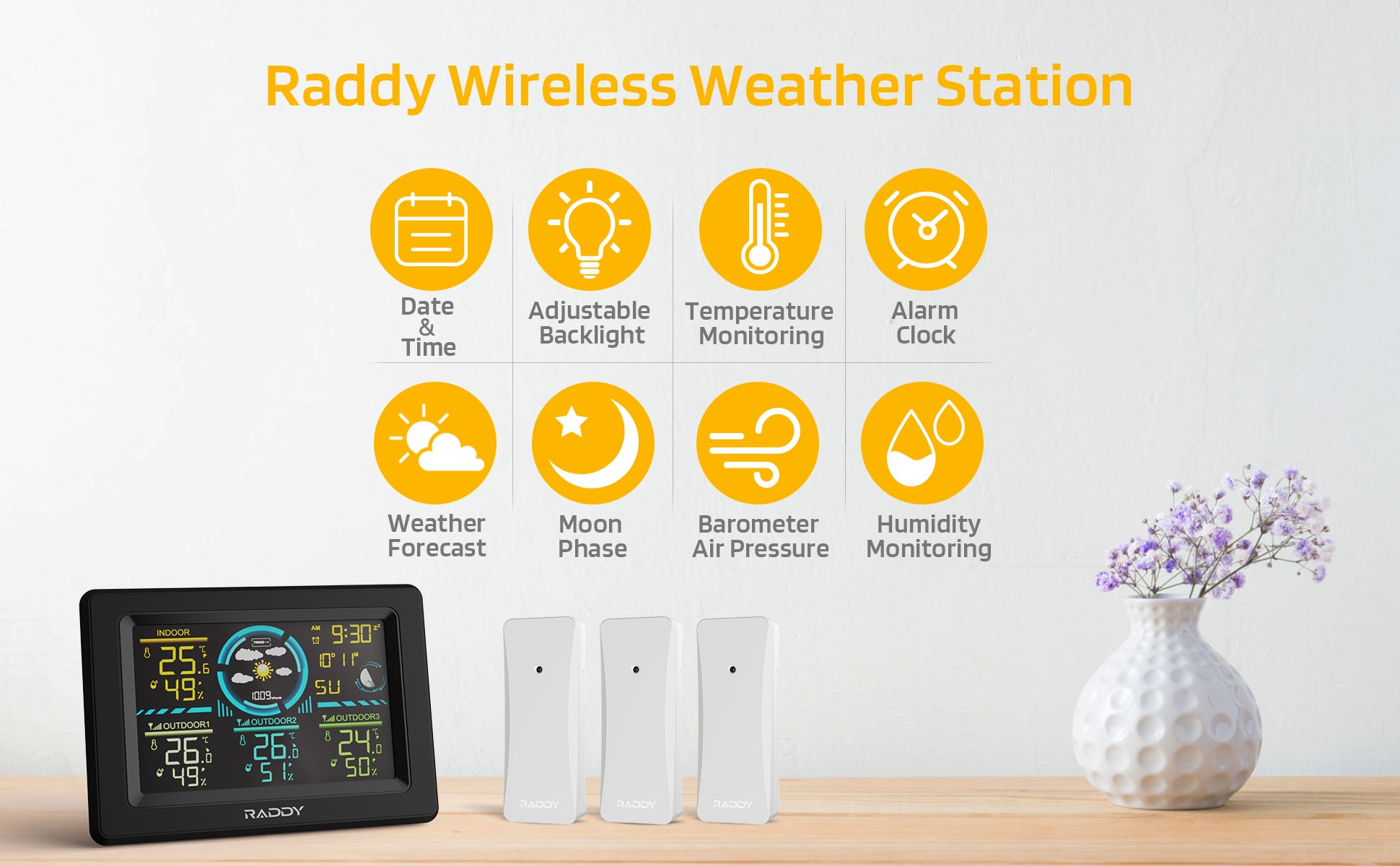 Please note:
1. The main unit will stop responding to any button command when it is at RCC signal receiving mode, which is normal.
2. With battery operation, the battery will enter the economy mode automatically to save the battery life, and the screen lights up for 8 seconds after you press the upper button.
3. To get accurate values from external sensors, it usually takes 15-20 minutes. If the weather forecast is needed for the next 12 hours, the sensor of channel 1 must be placed outside.
4. We recommend the low-temperature resistant batteries in winter as the performance of normal batteries will be weakened and affect the sensor signal strength when the temperature is below -10℃.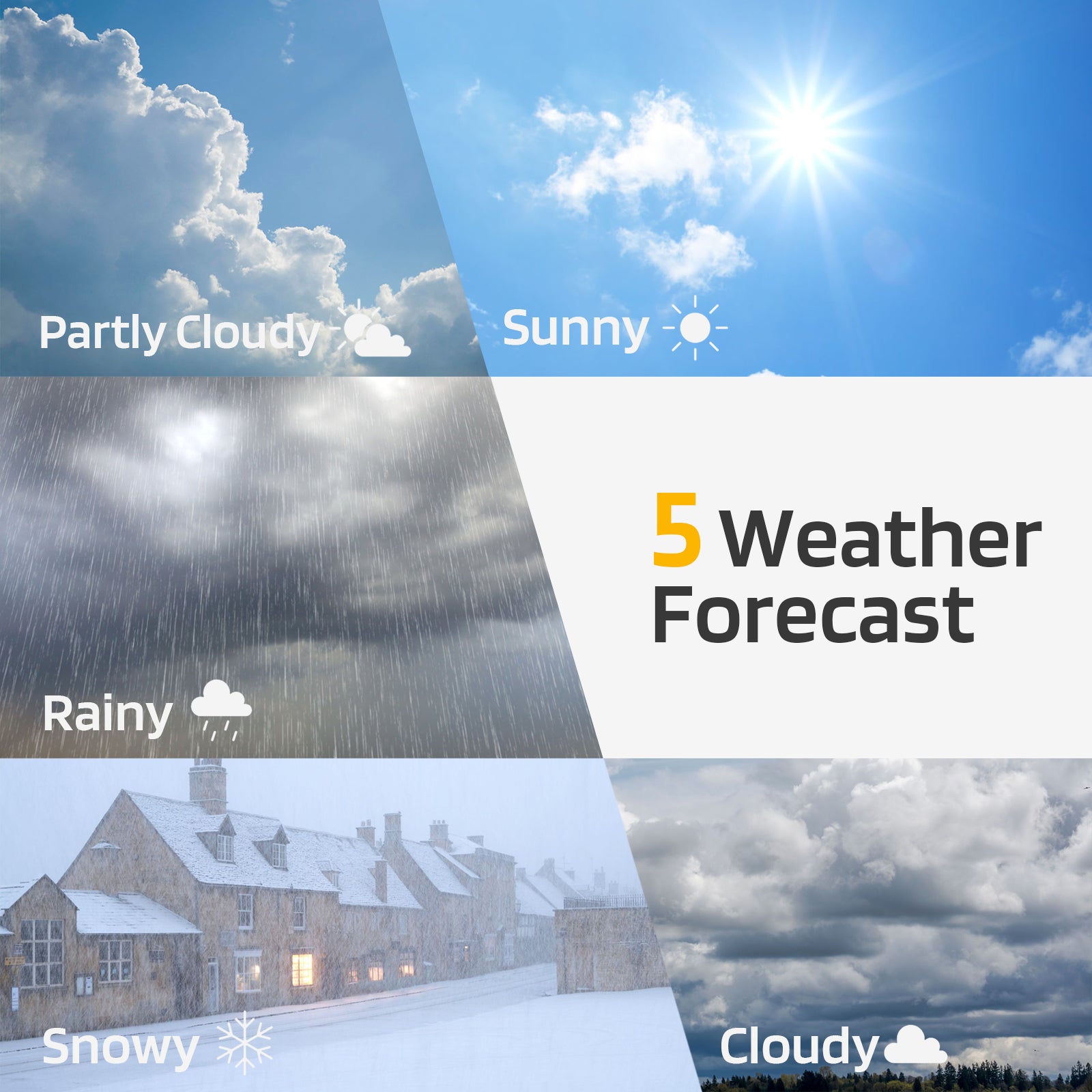 5 Weather Forecast
There are 5 kinds of weather icons: Sunny, Partly Cloudy, Cloudy, Rainy, Snowy. The weather icon displays are based on the hourly calibration of indoor / outdoor temperature and humidity data, as well as the barometer pressure. The forecast is for the next 12 hours. (Note: If you need to be noticed with a "snowy day" icon, please put the remote sensor 1 outdoor. )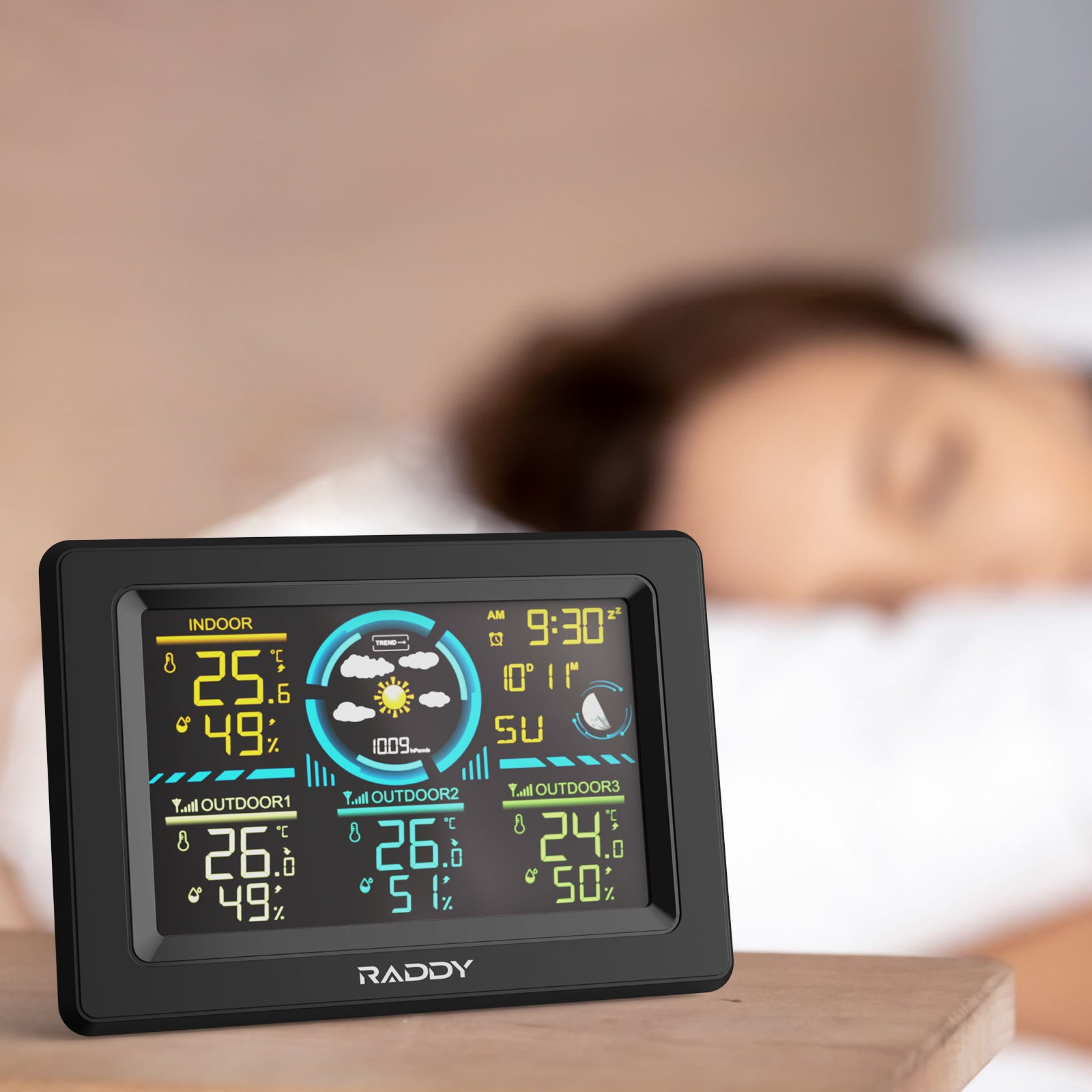 Alarm Clock Function
Use the weather station as an alarm clock so you are informed of the current weather immediately after getting up.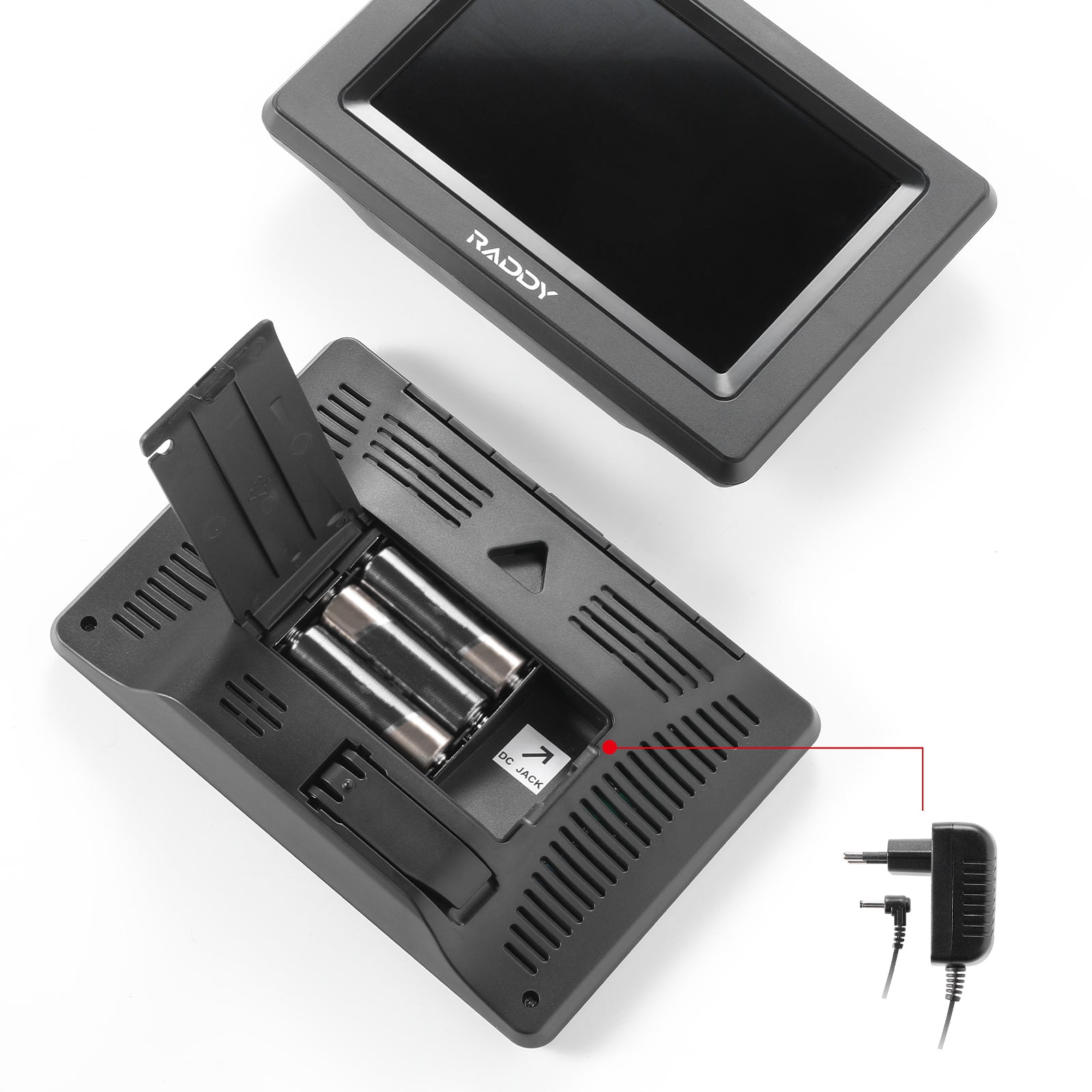 2 Power Supply Options
The base station is powered by a 5V - 1.2A power supply, which (the) sensor(s) requires 2 microcells each (AA, please use alkaline batteries). The base station can also be operated alternatively with 3 microcells (AA, alkaline). Since previous settings will be reset when plugged out, we recommend installing the batteries for the base station. The batteries then serve as a backup e.g. in case of power outages or similar. (Please note: no AA batteries can be charged with the device.)
What's in the box?
1 x Weather Station
3 x Remote Sensor
1 x User Manual
1 x DC Adapter *Alkaline batteries are not included
SPECIFICATIONS
Indoor Temperature Range: 14℉~122℉/-10℃~50℃
Outdoor Temperature Range: -40℉~140℉/-40℃~60℃
Humidity Range: 1%~99%
Battery: 3 x 1.5V type AA batteries & 5V 1.2A DC Adapter(Included)
Wireless Transmission Range: 330ft(100m) in open area
Waterproof Rating (Remote sensor): IP54
Sensor Hanging Hole: Compatible with <0.3cm diameter screw