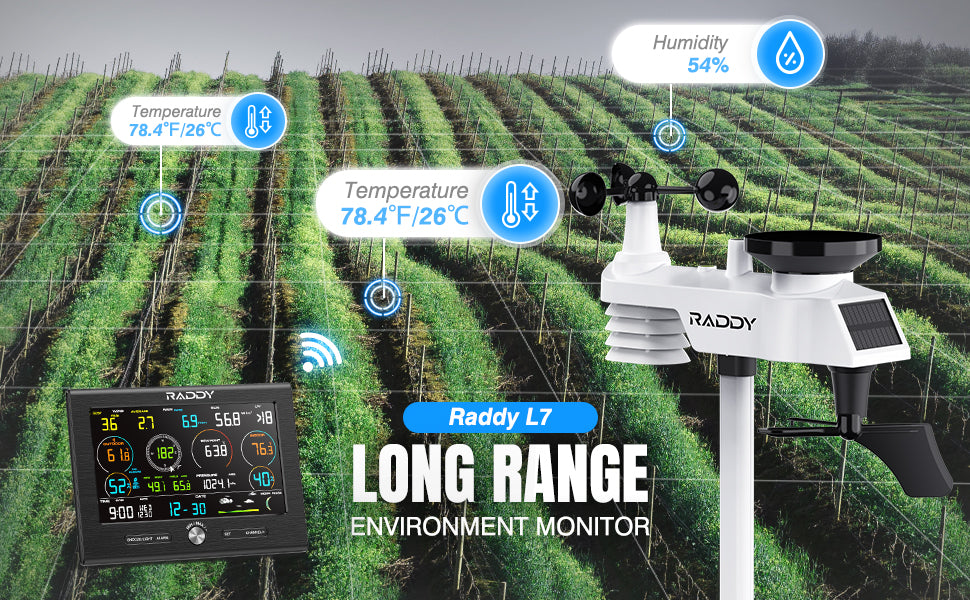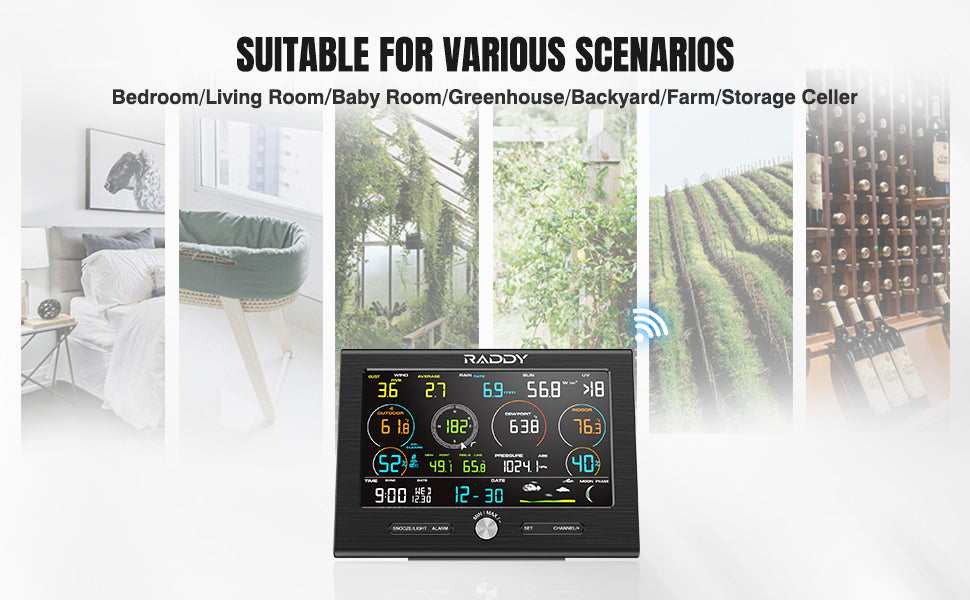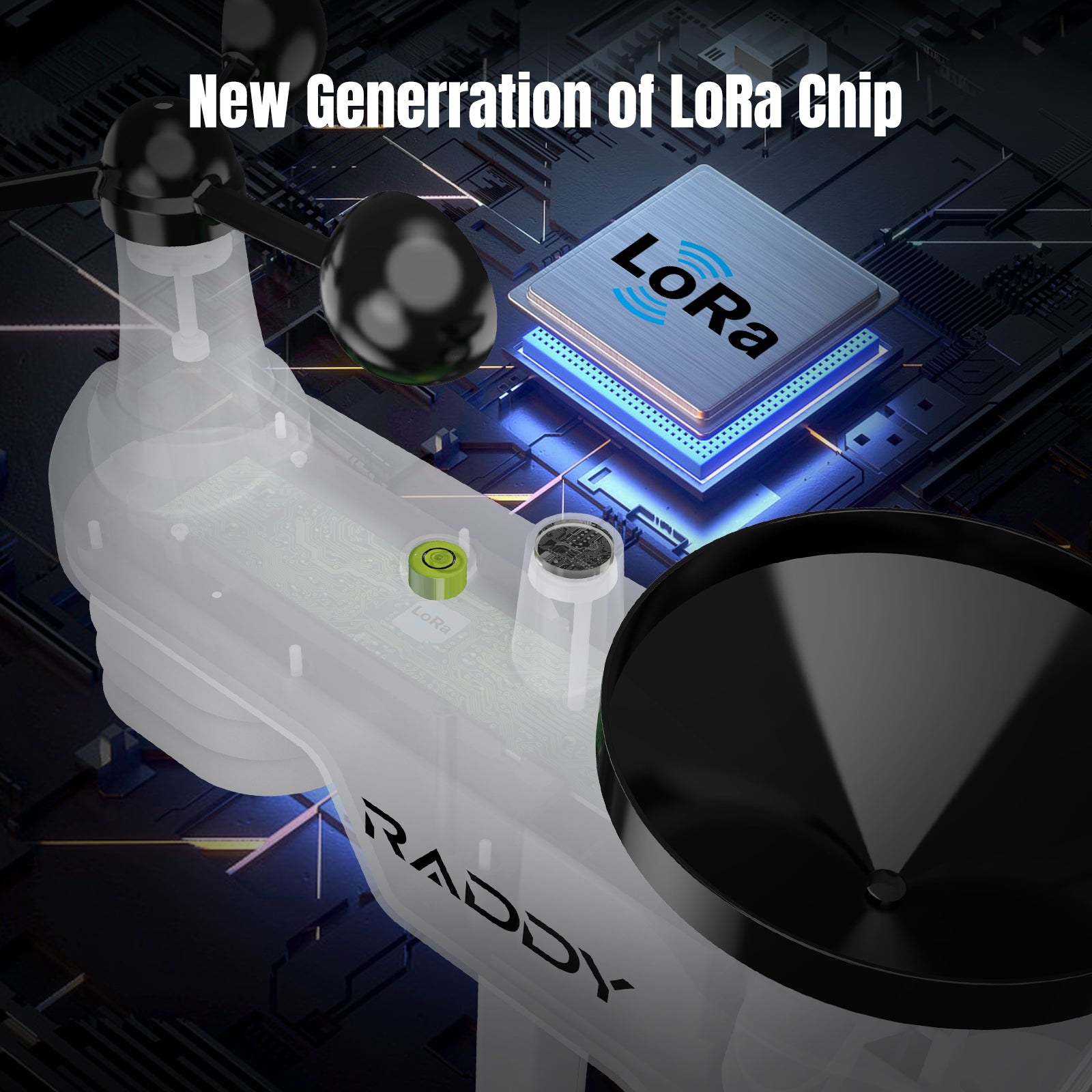 New Generation of LoRa Chip
The L7 is equipped with a LoRa(Long-Range) chip, greatly increasing the transmission distance between the console and the sensor - up to 30 times that of an ordinary weather station! Whether your garden produces tomatoes, lettuce, or any other produce, the Raddy L7 weather station takes the guesswork out of watering and protection from frost.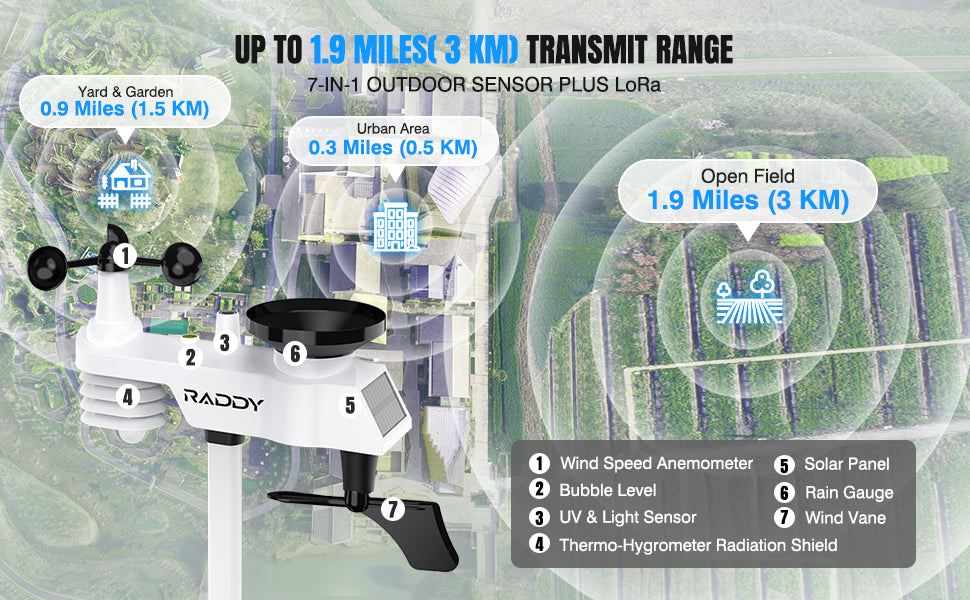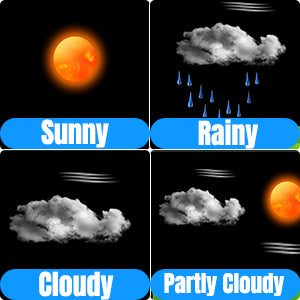 12-Hour Weather Forecast
There are 4 kinds of weather icons: Sunny, Partly Cloudy, Cloudy, and Rainy. The weather icon displays are based on the hourly calibration of indoor/outdoor temperature and humidity data and the barometer pressure. The forecast is for the next 12 hours.
Severe Weather Alerts
L7 can be set for custom alarm values for high/low temperature, humidity, feels like temperature, UV index, rainfall, wind, air pressure, dew point, etc. When conditions exceed your preset values, the console will alert you.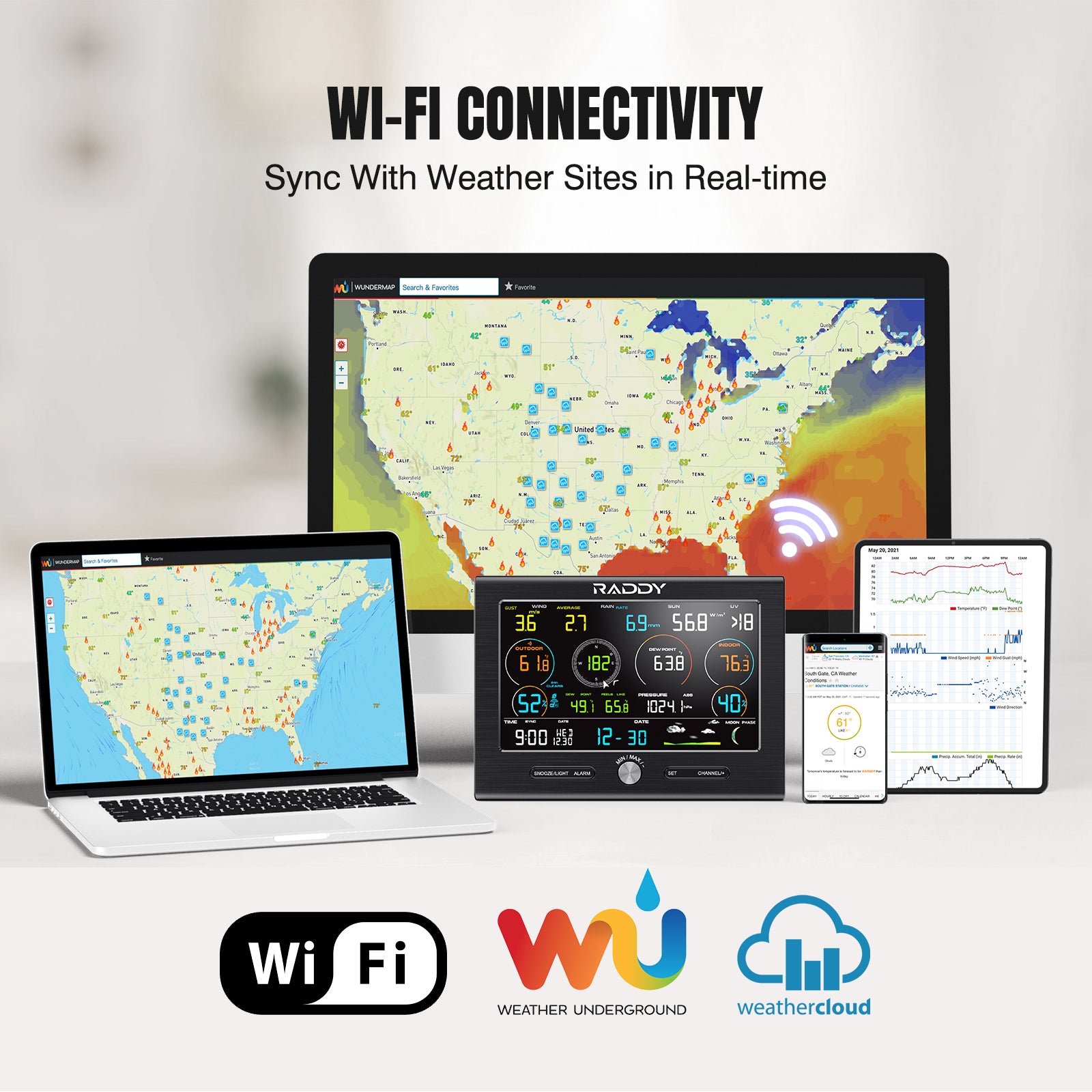 Wi-Fi + Weather Sites
After connecting to Wi-Fi, the L7 can share live weather conditions on Weathercloud and Wunderground. You'll enjoy tracking and discussing weather changes with your children, family, and friends.
| | |
| --- | --- |
| Specifications | |
| Temperature Range | Indoor sensor: 32 to 140 °F, Outdoor sensor: -40 to 140 °F |
| Humidity Range | Indoor: 10 to 99 %, Outdoor sensor: 10 to 99 % |
| UV Index: | 1 to 15+ |
| Solar Radiation (Light) Range: | 0 to 200,000 lux |
| Rain Gauge: | 0 to 394 inches |
| Wind Direction Range: | 0 - 360 º |
| Wind Speed Range: | 0 to 50mps |
| Barometric Pressure Range: | 300-1100hpa |
| Dimensions | Display Console Frame Dimensions (LxHxW): 7.6x5.5x1.1inches; LCD Dimensions (LxW): 6.3x3.7inches |
| WiFi Console RF Frequency: | 2.4 GHz/802.11 b/g/n with IPV4 protocol |
| Data TX/RX Frequency: | 915 MHz |
| Range (Console and sensors): | Up to 1.9 miles |
| Range (Console & Wi-Fi router) | Up to 80 feet |
Package Content
1 x Display Console
1 x Display Console
1 x Mounting Bracket Back Plate
1 x Mounting Pole
1 x Foot Mounting
1 x 100-240V AC Power Adapter